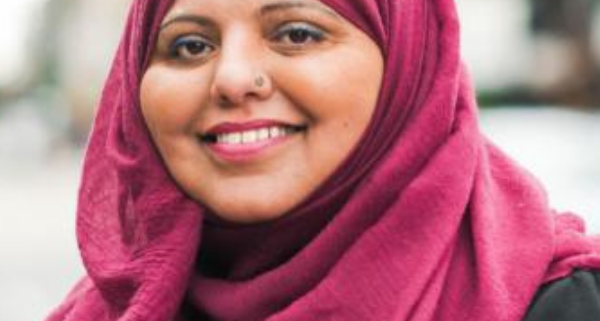 Shaista Aziz is a journalist and an award winning national anti-racism, women's rights, and equalities campaigner in the UK and internationally. She's one of the founders of the Three Hijabis, a trio of British Muslim women football fans who launched a 1.2 million viral anti-racism petition and campaign following the racist hate inflicted on three Black England players after the 2021 Euro final at Wembley. The Three Hijabis are now a platform working on tackling racism in sport and society and working with football and the Premier League to tackle gender based violence. In 2022, The Big Issue named the Three Hijabis as one of their 100 Change makers focused on tackling racism, social injustice, and inequalities. 
She's one of the founding members of the Stop Trump movement, mobilising 250,000 people to protest against Trump in London and across the UK. Since 2018, Shaista has served as a Labour Councillor for Rose Hill and Iffley, Oxford, and in May 2021 she was elected to serve as one of the first ever women of colour on Oxford City Council's Cabinet as the Cabinet Member for Inclusive Communities. She's the co-founder of the Labour Homelessness Campaign. Shaista was a member of the independent commission of inquiry into Oriel College's Commission on the future of the Cecil Rhodes statute. She works closely with the Pitt Rivers Museum, Oxford, on their endeavour to decolonise the museum in her capacity as the founder of Anti-Racist City, Oxford.  
She's a member of Another Europe is Possible's National Committee with a special focus on building campaigns on on anti-racism, the far-right, Islamophobia, women's rights, gender equality and LGBQTIA+ rights, and Proportional Representation. Shaista has been selected for the Jo Cox Women and Leadership Programme, is a Clore Emerging Leader Fellow for the Women and Girl's Sector and a Royal Society of the Arts Fellow for her work and advocacy on misogyny and racism and #MeToo abuse in the aid sector. 
She is a former aid worker of twenty years and has worked extensively across East and West Africa, the Middle East, including Syria, Yemen, Iraq and Gaza and has worked extensively across Pakistan and the countries borders with Afghanistan. In 2020 she was a participant in Harvard Universities symposium on colonialism, racism and representation in humanitarianism 
 In her spare time she enjoys working on her allotment, walking, cooking, reading, boxing, and dabbling in stand up comedy and creative writing.
---
Shaista will talk at the Transnational Assembly on Eco Social Justice taking place on April 23 and April 24.