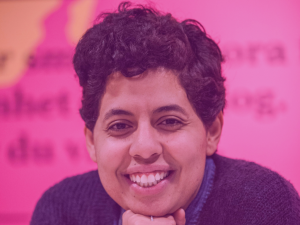 Rasha Saaban
Transeuropa 2017
iHopP is a creative project that aims at developing an intercultural dialogue platform to facilitate integration of newcomers and local community members. The word "iHopP" is a mash-up of the Swedish words "ihop" (together) and "hopp" (hope). In iHopP digital storytelling was used to get voices heard and give meaning and context to the participants' experiences. 24 of these one minute stories are shown here. These range from a tango dance to a Syrian father escaping the war with his little daughter. The project is organised by National Museums of World Culture in the framework of the Re-Build Refuge Europe project, curated and led by Rasha Shaaban.
Rasha Shaaban is currently working at the National Museums of World Culture in Sweden as projects leader and coordinator of the largest civil society network in Sweden promoting intercultural dialogue between the countries of the North and South of the Mediterranean. The digital storytelling project iHopP  is among the latest creative work she has been leading together with a Gothenburg-based artist, Linda Tedsdotter.
Linda Tedsdotter graduated 2001 from the Valand Academy of Fine Arts in Gothenburg. She has since then shown her work in solo shows at Newlyn Art Gallery Pencanze, Invaliden1 Berlin, Stenasalen Gothenburg Art Museum, Varberg Konsthall and group shows at Palais de Tokyo Paris, Stockholm Modern Museum, Göteborgs Konsthall, Museum of contemporary art Zagreb and Kaohsiung International Container Arts Festival. Combining her art practice, Tedsdotter is also freelancing curator, teacher at Domen Art school, and are running BRA10 (a performance plattform) and the residence programme at Konstepidemin in Gothenburg.